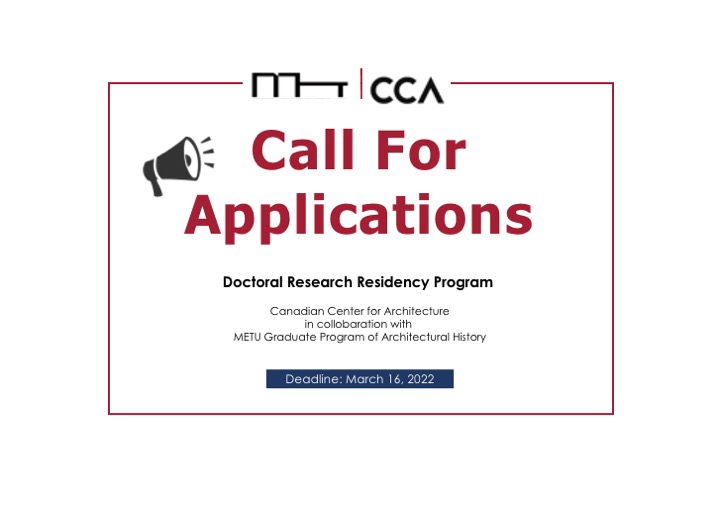 As part of the collaboration between
 METU Graduate Program of Architectural History
 and 
the Canadian Centre for Architectu
re (CCA), we will nominate an applicant to the 

"Doctoral Research Residency Program" of the Canadian Center for Architecture.

 Given the uncertainties and travel restrictions due to the Covid-19, terms and conditions of the fellowship program has changed yet there are still tailored assistance/access for researchers for whom CCA's archives are essential. This call is open to all four Graduate Programs. Please refer to the website for details:  
https://www.cca.qc.ca/en/41082/cca-doctoral-students-program
To apply, please submit the following to Assist. Prof. Dr. Pelin Yoncacı Arslan (pyoncaci@metu.edu.tr) by 

March 16, 2022

:

* Abstract of your PhD project (500 words), including the name(s) of the supervisor(s)
* Research Proposal (500 words), identifying the items in the CCA  Collection of interest, as well as contributions to the CCA's lines of investigation
* Curriculum Vitae, detailing education, professional experience, publications, awards, and working languages, as well as any other relevant information.
The members of the METU Graduate Program of Architectural History will choose one of the applicants and nominate her/him to the CCA's Selection Committee. The final decision will be announced by the Committee.  Note that the selection is dependent on the proposal's relevancy to the CCA's main lines of investigation. Hence, if you are interested in applying, check the CCA's archives to see whether it includes documents related to your dissertation study.